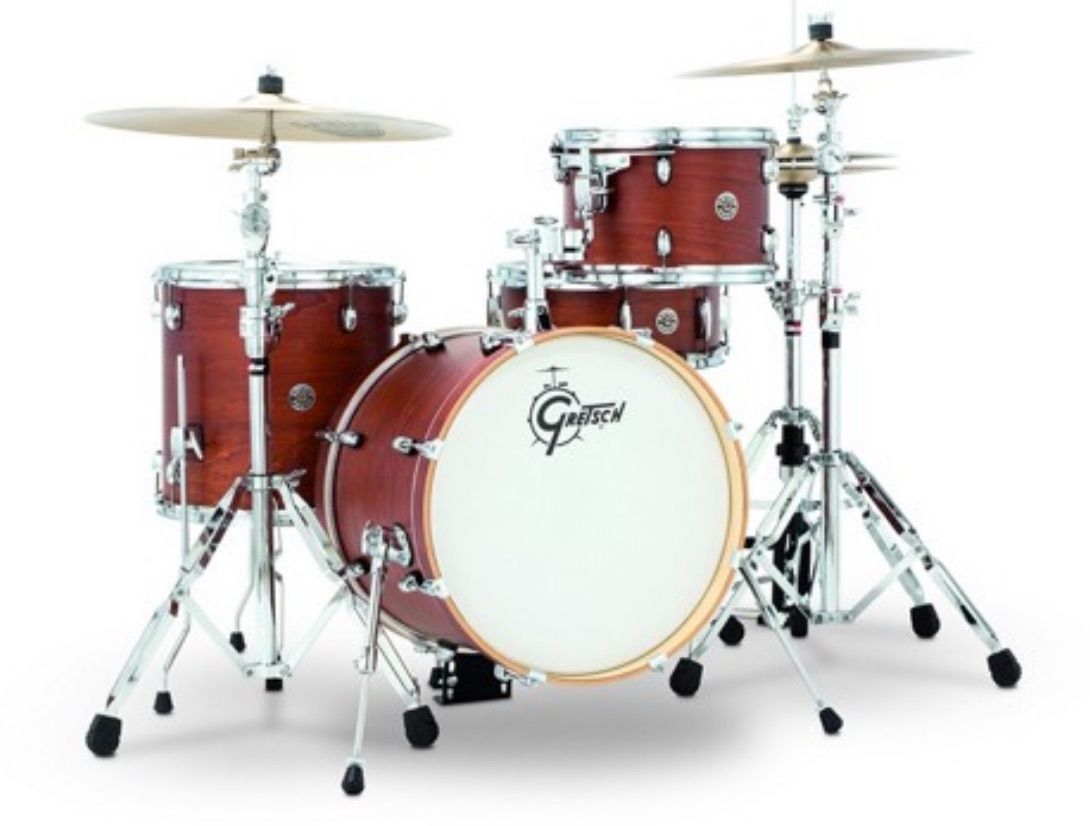 On SaleThe Gretsch Catalina Club Shell Pack was designed for the discerning player who is looking for a versatile 4-piece set at an affordable price. 
In additiona to blending traditional configurations and classic tone with sleek, contemporary hardware innovations, The Mahogany shells have a rich, lush sound that gives off tons of vintage mojo. Gretsch's classic 30-degree bearing edges give this kit a warm, punchy sound with tons of resonance. 
Configuration (Hardware & Cymbals not included): 
14" x 18" Bass Drum 
8" x 12" Rack Tom 
14" x 14" Floor Tom 
5" x 14" Snare Drum 
Gretsch Formula 7-ply Mahogany 
The classic mahogany shells are still built with the same natural shell interior and 30-degree bearing edge that made them famous. Bass drums include telescopic spurs and matching wood bass drum hoops. Toms and snare drums feature 1.6mm triple flanged hoops and all Catalina Club drums are equipped with Remo® drum heads. 
14-inch Deep Bass Drum 
Catalina Club 4-piece configurations are built around the foundation of the beloved 14-inch deep bass drum that gives each of these setups a warm and punchy vintage tone. 
Hardware 
Catalina Club's hardware components give the series a distinctive "new Gretsch" flair that pays homage to the company's rich tradition, while infusing an exciting and progressive personality. From the round "gas cap" bass drum mount plate and Mini GTS mounting system to the reduced-mass tom mount brackets and Gretsch T-Wing screws and bolts, Catalina Club has an incredible drummer-friendly feel. 
Traditional Bop Sizes 
While the traditional Bop sizes make it an ideal jazz kit, the Catalina Club also plays comfortably in other settings as well; including folk, pop, indie, rock, and more. It's also the perfect kit for when you're trying to fit everyone and everything onto a cramped stage. Plus its distinct retro look is sure to grab your audience's attention. So whether you're looking for a nice jazz kit, something smaller, or another kit for rehearsals –this is the set for you. 
Features: 
Gretsch Formula 7-ply Mahogany 
14-inch Deep Bass Drum 
Rich tradition, while infusing an exciting and progressive personality 
Traditional Bop sizes make it an ideal jazz kit 
Equipped with Remo® drum heads