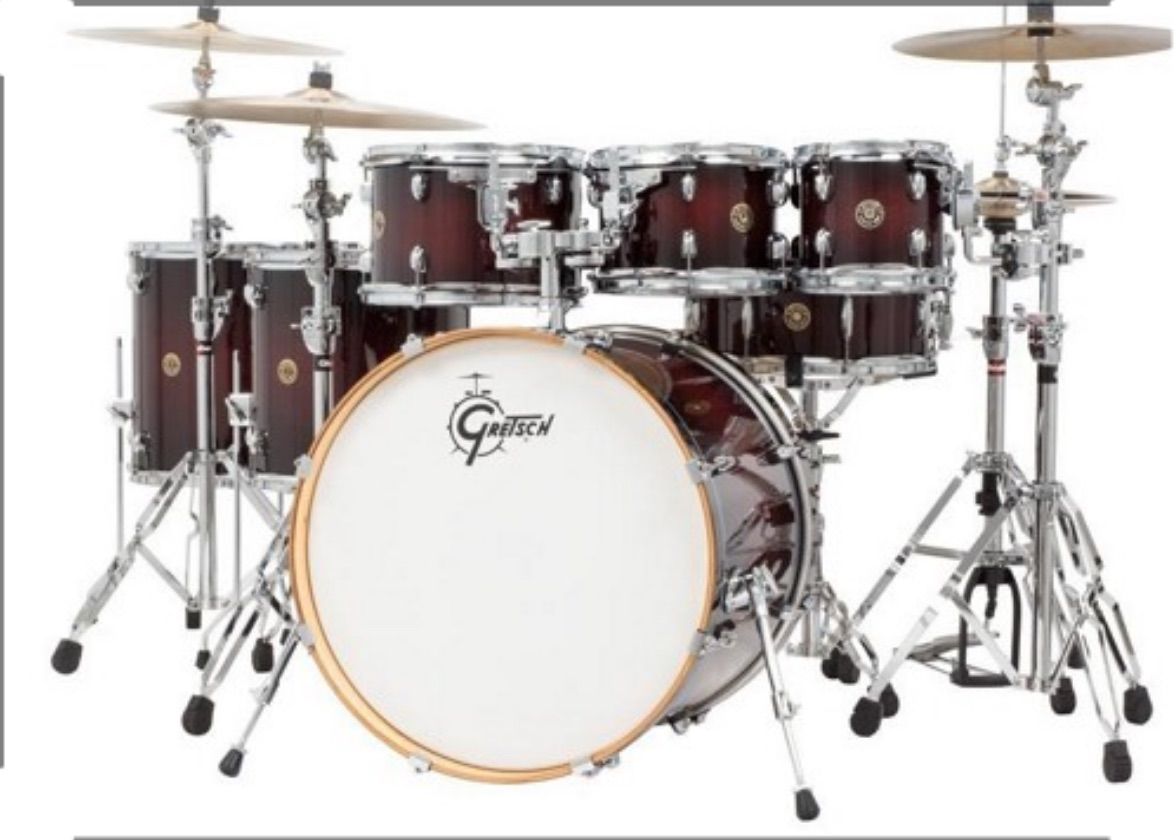 The Gretsch Catalina Maple Series Shell Pack includes innovative new hardware designs that drastically improve functionality, performance and style. 
Featuring a great sounding, ergonomic Gretsch kit with a fresh, contemporary look. The Gretsch Catalina Maple incorporates a round "gas cap" styled bass drum mounting plate, Gretsch's signature ultra-low profile GTS mounting system, and reduced-mass tom mount brackets, helping improve the drums natural resonance and increase sustain without impending upon stability. The ball socket 12.7mm L-arms allow you to position your drums any way you'd like while stilling being as solid as a rock. Gretsch T-Wing screws and bolts are included on all fittings for drummer friendly feel and rubber isolators have been added to the die-cast bass drum claws to help keep your bass drum hoops looking new while improving the drums overall resonance. 
Configuration (Hardware & Cymbals not included): 
18" x 22" Bass Drum 
7" x 10" Tom 
8" x 12" Tom 
14" x 14" Floor Tom 
16" x 16" Floor Tom 
6" x 14" Snare Drum 
Free 7" x 8" Tom 
7-ply Gretsch-formula Maple Shell 
The Gretsch Catalina Maple series includes many drum features that have made the Catalina series popular in the past. The shell is a 7-ply Gretsch-formula maple shell with 30-degree bearing edges and natural shell interiors. 
Triple Flange and Maple Bass Drum Hoops 
Bass drums include telescopic bass drum spurs and matching maple wood bass drum hoops. The snare and toms feature 2.3mm triple-flanged hoops. 
Remo Drum heads 
All drums are fitted with Remo drum heads for the best possible sound right out of the box. The white Gretsch logo bass drum head not only gives these drums a clean, classy look but features an internal muffling ring for added sound quality. 
Features: 
7-ply Gretsch-formula Maple Shell 
Triple Flange and Maple Bass Drum Hoops 
A great sounding, ergonomic Gretsch kit with a fresh, contemporary look 
Gretsch's signature ultra-low profile GTS mounting system 
Natural resonance and increase sustain without impending upon stability